About us

We are a welcoming and friendly WI who formed in late 2012. We meet on the first Monday of the month at The Venue, located in Maghull Town Hall, starting at 7.30 pm and usually finishing between 9.30 and 9.45 pm. If the first Monday of the month is a Bank Holiday then our meeting is held on the second Monday. Our assorted list of speakers enables us to discover lots of new interesting information on a wide variety of topics. Our programme page gives full details of our schedule for the year.
Other regular activities
As well as our monthly meeting we have several groups who meet on a regular basis including a walking group, a book club, upcycling club and a supper group. Members also make regular donations of groceries to our local foodbank and The Whitechapel Centre, the homeless and housing charity in Liverpool.
Outings to local theatres are also arranged and in 2017 we visited Bodnant Gardens, in Wales, toured one of the ventilation shafts for the Mersey Tunnel which took us deep below the river whilst over 30 Members met up with other local Wis for a Christmas meal at a Liverpool hotel. A trip to Morecambe for the Vintage by the Sea weekend was enjoyed by members in costume and this looks like becoming an annual event! We visited the County Show in Garstang and a small group attended the Lancashire Council meeting in Southport and listened to some excellent speakers. In Spring 2018 we are planning to visit The Old Liverpool Dock, The Victoria Gallery & Museum and our local Recycling Centre and will, no doubt, arrange many other interesting outings throughout the year.
We celebrated our 5th birthday in October 2017 with a delicious High Tea and have a variety of other activities planned over the next 12 months. We are planting an anniversary tree in March, followed by afternoon tea to support the WI resolution of trying to alleviate loneliness within the local community; bursaries are being offered to Members for a variety of courses and we have introduced a bimonthly competition which is proving very popular with our members.
The photograph below shows out visit to the Mersey Tunnels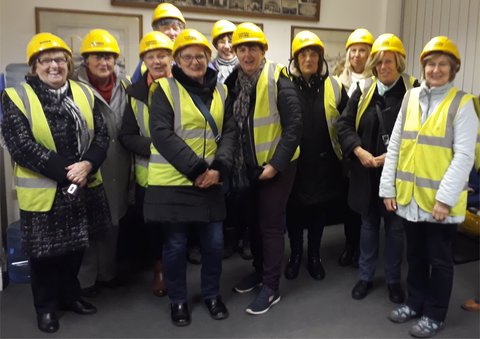 Contact us
If you would like further information about our Wi then please email us at maghullwi@gmail.com