Groups and Past Events
Hoghton WI Groups
Book Club - On the 3rd Tuesday each month we meet at Clayton-le-Woods Library at 10am. We have a lively discussion about the book we have read over the previous month over tea or coffee and biscuits, before getting our next book. We have read a wide variety of books over the last year, all chosen from a list provided by the Library.
Craft Group - Meets every Tuesday afternoon at a different members' house each week. They have masterminded several projects including the Hearts for Camilla, knitted squares for blankets, Teddies for Tragedies, Twiddle Muffs and Blankets.
Lunch Club - Meets on a different day during the 4th week each month. Our members have enjoyed each other's company and excellent food at many local restaurants including The Hoghton Arms, Leyland Golf Club, The Salmesbury Hotel, Pinocchio's and Runshaw College. Meeting on a different day ensures that everyone gets a chance to join in. New venue recommendations are welcome.
Outings - We have been to Dewlay, Garstang followed by lunch at Barton Grange as well as several theatre, film, ballet and opera performances, the last two being live streamings from Covent Garden. Musicals have been a popular choice, including Dreamboats and Petticoats, Billy Elliot and Beautiful to name just a few.
Scrabble Club - Ladies meet on various afternoons, monthly to have a friendly game of scrabble in one another's homes - along with refreshments of course!
Theatre Group - We have been to several performances including;- The Mousetrap at the Grand, Blackpool and Warhorse at The Lowry and trips to see Black Coffee, an Agatha Christie play in Blackpool and Jersey Boys at the Lowry. Suggestions for future visits are always welcome.
Walking Group - Meets on the 3rd Thursday each month. We usually meet at Hoghton Village Hall Car Park or sometimes go on to another local venue together. Our walks vary as a different leader is chosen each month. We have had walks round Hoghton, along canals, round Chipping, Brinscall, Blackburn and even Worden, Avenham and Miller Parks. There are walks to suit every ability. During the winter months we start at 10am but in the summer enjoy evening walks from 6.30pm.
Past Events
Albert Hall Screening at Mytton Fold
On Thursday June 4th 11 members from Hoghton WI enjoyed the screening of the Annual Meeting at Mytton Fold. Billington and Langho WI had organised the event, and what a great day we had. Everyone had dressed up for this special occasion when we had the opportunity to see the links with WIs from all over the country as well as Anglesey.
Denman College Visits
Approximately every two years between twenty and thirty members from Hoghton WI visit Denman College for a variety of courses one weekend. The courses cover: Walking in the Chilterns, Silver Jewellery, Oxford, Painting and Life Skills etc. The visits are enjoyed very much and there is plenty of social time to enjoy each others company in the evening.
London Visit to the V&A and 'Cotton to Gold' Exhibition
9 members and friends took the train to London and managed to have a packed day visiting the Wedding Dress exhibition in the V&A which was enjoyed by everyone. Some then went on to 2 Temple Place, an amazing house once owned by Lord Astor, to view and exhibition put on by Pennine Museums to show items usually kept under wraps in Blackburn, Burnley, Padiham and Accrington. Others stayed overnight so that they could see the show, Billy Elliot.
Presentation of Long Service Certificates.
| Marion McDonald pictured with Hoghton president with the certificate for 60 years service which had been presented at the Spring Council Meeting at Southport on March 12 2015. Marion is a valuable member of the WI and has a great interest in the work of ACWW. | | |
| --- | --- | --- |
President Marilyn Gibson presented Janet Horton with
her long service certificate at the August 2014 meeting. Janet has been a member of the Women's Institute for 50 years and is a valued member of Hoghton WI.
Visit of Norton Lees WI - August 6th 2014
We gave a Lancashire welcome to 24 members of Norton Lees WI on August 6 2014 and shared an Afternoon Tea with them after their trip on the canal at Riley Green. They had travelled from Sheffield on their annual trip out and we had a wonderful afternoon chatting like old friends over tea and the great selection of cakes that were on offer. We rounded of the afternoon with a superb rendition of Jerusalem. They left us with gifts of a picture, souvenir tea towel and two of the most beautiful hand embroidered cushions to raffle for this year's charity which is Rosemere. We had such a good time, made lots of new friends and have promised to keep in touch and visit them next year. Watch this space!!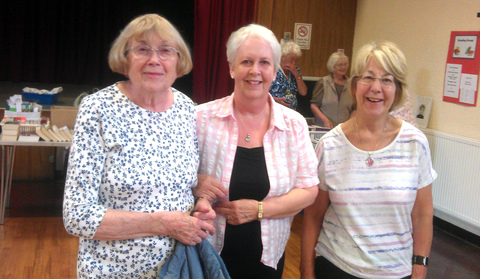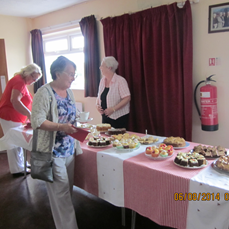 Growing Old Disgracefully Talk - July 2014
Everyone got into the spirit of the talk by dressing up in purple and wearing a red hat!!
Centenary Baton Celebrations
Pictures taken at the Centenary Baton Reception held at Hoghton Village Hall on February 22 2014 when several local WIs joined us for tea and cakes. It was an enjoyable afternoon giving everyone an opportunity to see the Baton and meet friends from other WIs. The book, plant and market stalls were well attended the the craft display was inspirational.
Mary Gibson with Hoghton WI President and Five Past Presidents and with members of Hoghton WI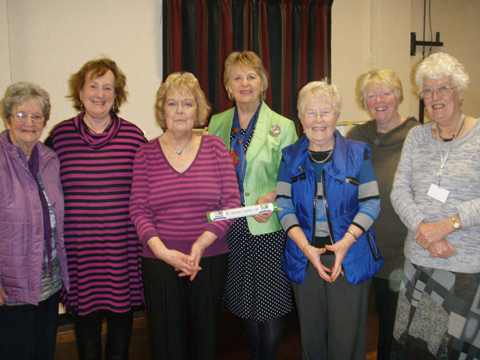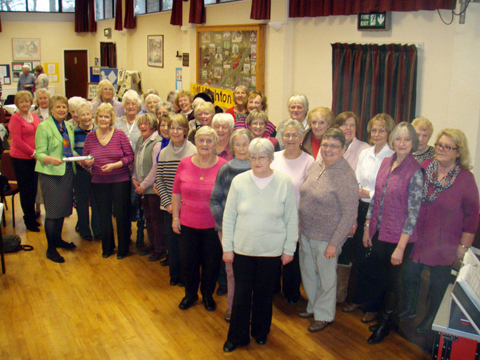 Preston Guild September 2012
Our Float 'SOS for Bees with our very own Queen Bee and Workers