Events
2018 90th Birthday Celebrations
During August some members of Hoghton WI including members of the Committee went to the Mayor's Parlour for Afternoon Tea and were photographed with him.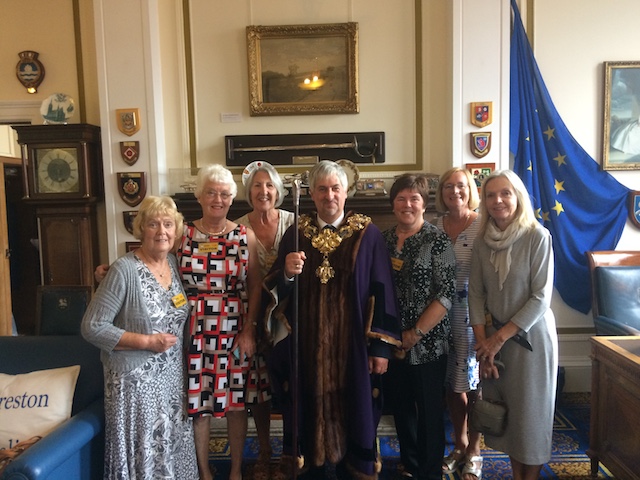 During the summer we had a glorious celebration Afternoon Tea at Hoghton Tower during which we were able to view the scrapbooks and memorabilia kept from the inception of our WI until the present day. It was so interesting to see just how our members have taken part in so many variety shows and pantomimes and been such active participants on so many committees and advisory panels. We enjoyed our Afternoon Tea in the Great Hall where we were greeted by Sir Bernard de Hoghton.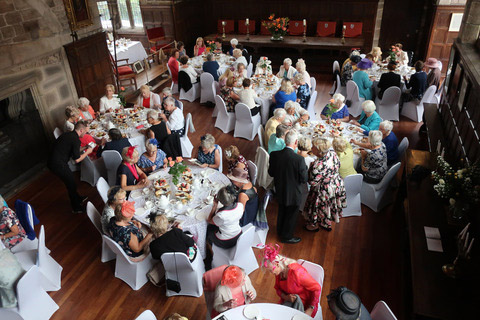 Some members of the committee are photographed below with Sir Bernard and Lady de Hoghton.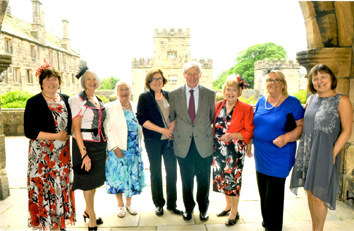 Throughout the year we held various events culminating in a party in November. Our cakes, made and decorated by members were cut by representatives from our long serving and newest members.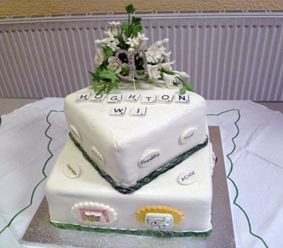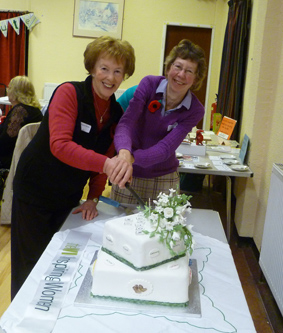 It was also the 60th Anniversary of membership to the WI of one our members Vera Proctor, a former President and active member of Hoghton WI, she is pictured with Anita Pugh, our president receiving her certificate.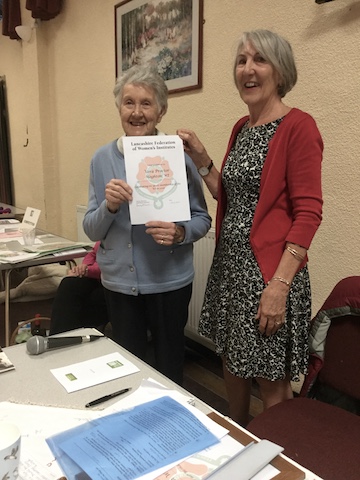 In November, we sponsored the Silent Soldier silhouette at the War Memorial as a mark of our respect and to celebrate our 90 years as part of the local community. Members of the WI also took part in knitting poppies for the parish church.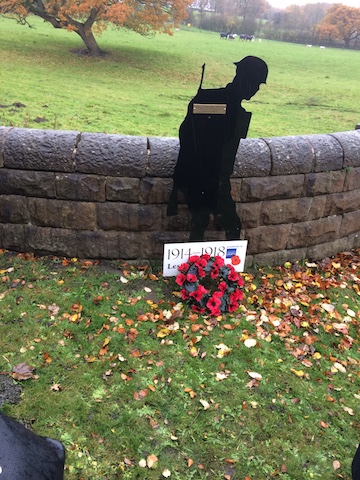 2017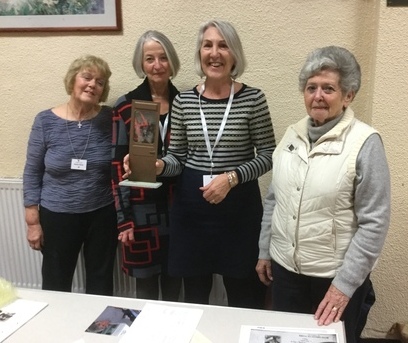 Lady Milena Grenfell-Baines visited us in January and gave a talk entitled the 'Last Train to Tomorrow'. She had been one of the lucky children to leave Prague on one of the last trains to leave Czechoslovakia and come to Great Britain in 1939. She detailed her life during the war and how as one of the lucky children had been able to rebuild her life in Lancashire being reunited with her father and later her mother came to England via Norway.
(The Winton Train was a private passenger train that travelled from Czechoslovakia to Great Britain thanks to the wartime efforts of a young man called Nicholas Winton who has been described as the British 'Schindler'. She described the meanings of 'label' 'list' etc to her. She had left many relatives and friends behind).
The photograph shows Anita Pugh our president holding a mock-up of the proposed memorial to be erected on Prague Railway Station. It is to be that of a train door with the glass featuring the hand prints of a mother and a child saying a last goodbye. It is in tribute to the mothers who allowed their children to reach freedom knowing that very few of the would ever be re-united thanks to the Nazi war camps.
Pictured from left to right: Marilyn Gibson, Nora Clay, Anita Pugh and Milena Grenfell-Baines.
January 2017 Walking Group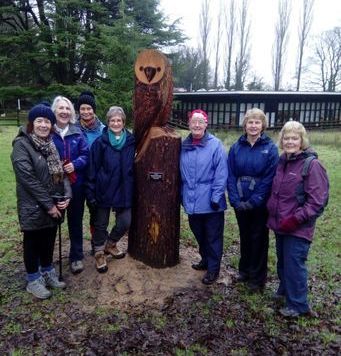 A group of hardy members met at Cuerden Valley car park and enjoyed a 4 mile walk. There were several groups of children from local schools dressed in Victorian costume in the park learning how the house and garden looked at that time thanks to the volunteers who had also dressed up for the occasion. We were fortunate to get a detailed explanation of the restoration of the walled garden from a volunteer dressed as a teacher with cane in hand. We were well behaved and made sure that he had no opportunity to use it!! The new Welcome Centre and Coffee Shop is well under way and will be a considerable asset when completed.

July 2016 Walking Group

This month we were lucky to be able to meet for an evening walk around Hoghton taking in Salmesbury Bottoms as well as as a morning one when we walked aling the Leeds Liverpool canal from Whins Lane. We stopped off for an ice-cream at Top Lock then rounded off the walk by having a well earned lunch at Spout Farm.
June 2016 Walking Group
We met at Brindle Village Hall and took a circular walk taking in Withnell Fold Conservation Area and the Leeds and Liverpool Canal as far as Simpson Fold Bridge, then back to Brindle via Walmsley Fold Farm.
It was a superb evening and in order to avoid a field of Bullocks we took a detour past Lady Hall Farm. Little did we know that we were to encounter a muddy field with several Bullocks later! Although an escape route had been planned the animals blocked this exit. In spite of this we all survived our 'ordeal' and thoroughly enjoyed a well-deserved supper at the Cavendish at the end of our evening.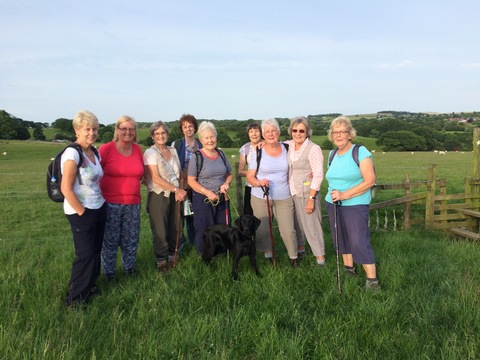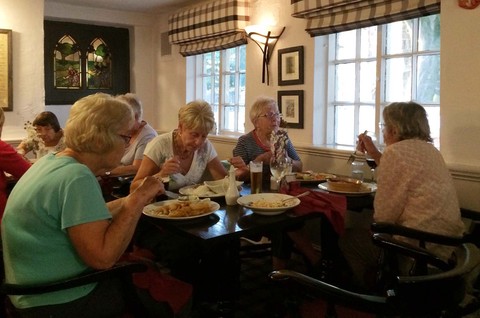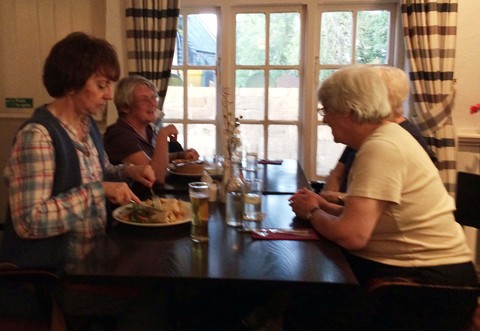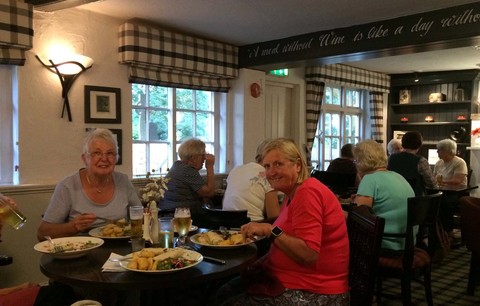 Holy Trinity Chuch, Hoghton Flower Festival June 2016
Several of our WI ladies took part in this very successful event and worked hard over many months to perfect their ideas and transpose them into the most beautiful and professional displays. Steph Murray put together a very comprehensive display of postcards, books and memorabilia showing the history of the area, They had lots of wonderful comments from the hundreds of visitors who truly enjoyed the colourful event which included amazing floral displays portraying village life past and present. The WI display invited you to take Tea and Cake put together by Nora Clay,Jean Cuffin, Nuala Joyce and Margaret Sutcliffe,whilst the Pantomime display by Sue Adams was of the Genie coming out of the lamp. Community Nursing floral display took us all back to the TV series 'The Midwife with the nurses bag and bicycle by Sylvia Atkinson. Congratulations to them all!!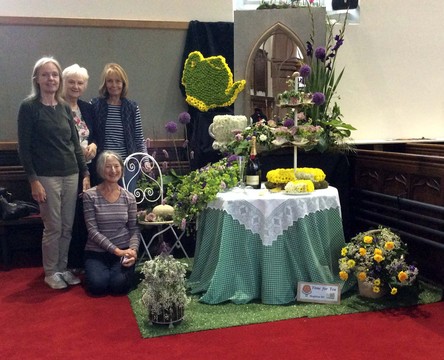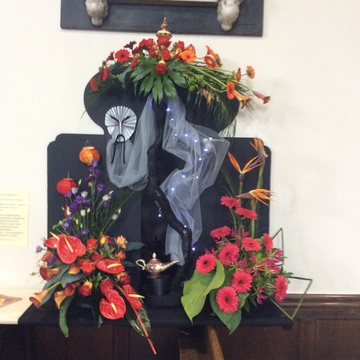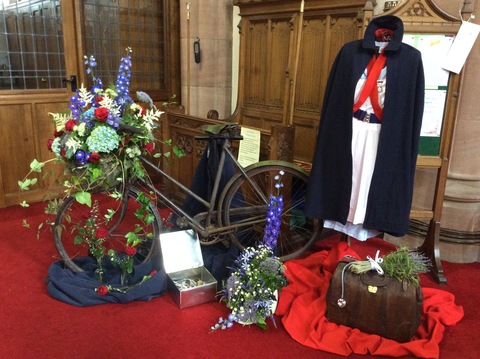 Craft Group
The ladies in our Craft Group have been busy making intricate and colourful twiddle blankets to stimulate people suffering from Dementia. There are a variety of blankets, mitts and cushions which are being donated to a local Care Home where people can use them as part of their therapy.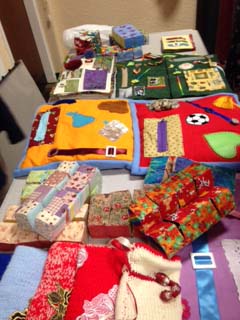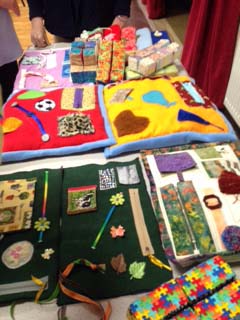 Chocolate Tombola Easter 2016
We held a Chocolate tombola during our March meeting which raised over £70 for this year's charity (NW Air Ambulance).
Theatre Trips and Visits
At the beginning of June several members of the Book Club went to see the newly released film of 'Me before You' after reading the book, even though we already knew the ending it did not detract from our enjoyment of the film.
We enjoyed the Live Cinema Season at the Vue cinema. Visits to the live ballet performances of Giselle, The Nutcracker and The Two Pigeons from the Royal Opera House in Covent Garden. Darcey Bussell took us behind the scenes to get more insight into the training and workshops taken by the performers.
26 members went to see 'The Girls' Gary Barlow's musical about the 'Calendar Girls' at The Lowry in January and what a brilliant evening we had. The show was superb making us all proud to be WI members.
Radio Lancashire.was visited recently and after taking part in a morning programme we were given chance to see round the newsroom during our tour we met several was presenters then finished the day with a superb lunch in the Crypt Restaurant in Blackburn Cathedral. We also visited the Centennial Fair in Harrogate and everyone had a truly wonderful day. Visits to see other film and stage performances are also being organised.
Radio Lancashire Photographs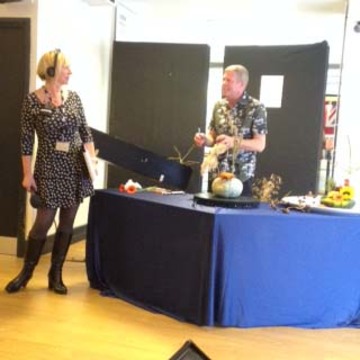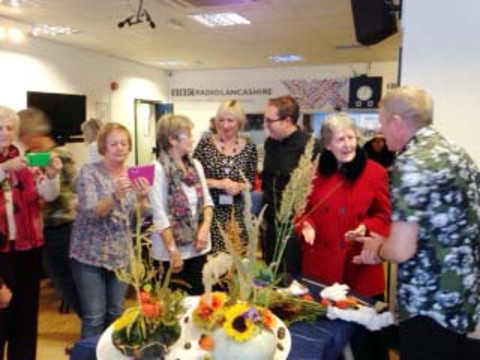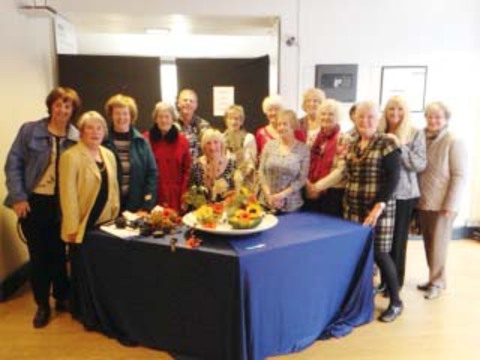 Willow Weaving Course at the Leyland Office in November 2015
Link to pictures taken on a day that everyone enjoyed!!
Hoghton WI Centenary Celebrations
We have been able to site a bench to commemorate the WI Centenary at Hoghton Village Hall. One of our longest serving members, Vera Proctor unveiled the bench on a beautiful summer evening. Most of the WI members were able to attend and our rendition of Jerusalem as part of our celebration was an absolute joy for everyone. We would like to thank Michael Fazackerley, an exemplary WI husband for making making and siting the bench for us.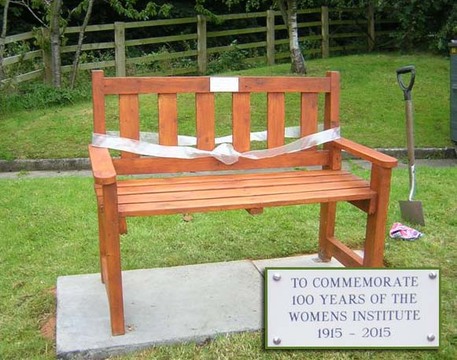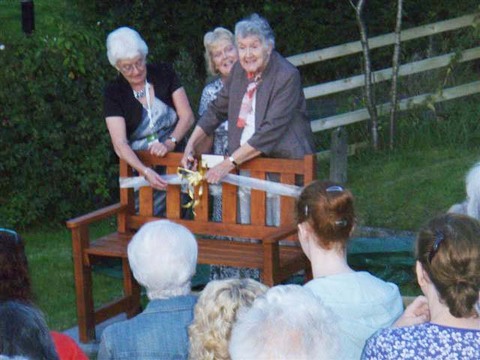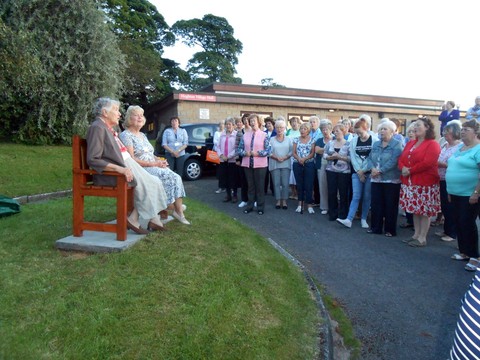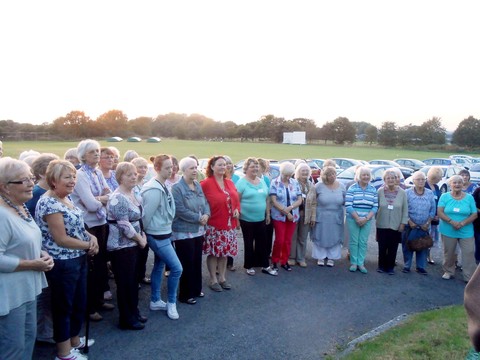 We have hosted an OPEN AFTERNOON with refreshments of course!! and invited other local WIs to show the local community how lively and interesting the WI is. We displayed scrapbooks, samples of crafts, activities including outings that we offer our members and had a book stall and much more. Although there were many other local events on that day it was an ideal opportunity for an enjoyable afternoon and several non-members attended.
Denman College Visit
We had a few days at Denman College when 30 of us enjoyed a few days away making the most of the surroundings and courses on offer. We walked in the Chilterns, had guided tours of Oxford, joined painting and life skills classes as well as making the most beautiful silver jewellery.